Greatest Hitters Ever
Madfish Willie's Greatest Hitter Ever - #7 Barry Bonds

Awards:
• 1990: National League Most Valuable Player
• 1990: National League Gold Glove at OF
• 1991: National League Gold Glove at OF
• 1992: National League Gold Glove at OF
• 1992: National League Most Valuable Player
• 1993: National League Most Valuable Player
• 1993: National League Gold Glove at OF
• 1994: National League Gold Glove at OF
• 1994 ESPY: Outstanding Baseball Performer
• 1994 ESPY: Male Athlete of the Year
• 1996: National League Gold Glove at OF
• 1997: National League Gold Glove at OF
• 1998: National League Gold Glove at OF
• 2001: National League Most Valuable Player
• 2002 ESPY: Moment of the Year
• 2002: National League Most Valuable Player
• 2002 ESPY: Outstanding Baseball Performer
• 2003: National League Most Valuable Player

Scouting Report
2003 Season
Though he again posted amazing numbers while winning his sixth National League MVP Award, it was a difficult season for Barry Bonds, who played most of the season knowing his father, Bobby, was dying of cancer. Bonds was on the bereavement list twice, including a second time when his father passed away on August 23. When he returned, Bonds openly talked about the tough times he was experiencing, saying he was having trouble sleeping. Bonds stayed overnight in a Phoenix hospital with a rapid heartbeat in early September.
Hitting
Although Bonds is approaching 40 years old, he has the bat speed of a man much younger. With his short, quick swing, he's still able to turn on inside pitches and drive them out of the park. As the years have progressed he's become an even more disciplined hitter, drawing an astonishing 523 walks the past three seasons. There was a time when Bonds' weakness was hitting against lefthanders, but that's no longer the case.
Baserunning & Defense
Bonds' days as a Gold Glove left fielder are over. He's bulked up over the years and has lost his agility and foot speed. However, he still can keep runners from taking the extra base with a quick release and intelligent positioning. He also cut his errors from the previous season from eight to two. Bonds no longer is an elite basestealer, but he was 7-for-7 last season, including the 500th of his career.
2004 Outlook
There seems no reason to believe Bonds can't continue his astounding pace, even though he'll turn 40 on July 24. He needs two homers to tie his godfather, Willie Mays, for third place on the all-time list. Bonds has to continue to remain patient at the plate; at times, it appeared he grew frustrated with the walks he constantly received, going into mini-slumps when teams did pitch to him.
Here are his complete career statistics.
Here are his top 15 productive seasons according to the Madfish Willie Index: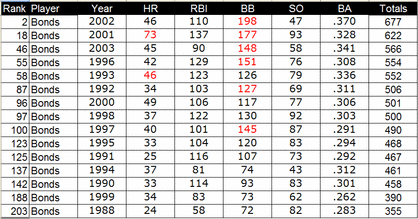 »
by
Madfish Willie
on April 3 ::
Permalink
::
Comments (0)
::
Baseball