Greatest Hitters Ever
Madfish Willie's Greatest Hitter Ever - #9 Henry Aaron

Awards:
• 1957: National League Most Valuable Player
• 1958: National League Gold Glove at RF
• 1959: National League Gold Glove at RF
• 1960: National League Gold Glove at RF
• 1999: Named to All-Century Team (OF)

"Hammerin' Hank" Aaron earned his nickname by clubbing 755 roundtrippers over his 23-year career. Not only did he raise the bar for home runs, but he also established 12 other major league career records, including most games, at-bats, total bases and RBI. Aaron played the infield but gained recognition as an excellent outfielder, winning three Gold Glove awards. He earned National League Most Valuable Player honors in 1957, and appeared in a record 24 All-Star Games. A quiet and effective leader, Aaron is now an executive with the Braves.

Did you know ... that Hank Aaron, a former member of the Negro American League's Indianapolis Clowns, was the last Negro league player to also play in the major leagues?

Home Run Facts: Aaron and brother Tommie rank first in homers by siblings (768); he combined with Eddie Mathews to hit most homers as teammates (863); he and Mathews are the only teammates to hit 400 homers each as teammates (442 for Hank, 421 for Eddie); hit 385 in home parks, 370 on the road; hit 185 homers in Milwaukee County Stadium as a Brave, 10 as a Brewer; hit 190 homers in Atlanta Fulton-County Stadium; he hit exactly 400 solo homers (53%); 242 two-run homers (32%); 97 three-run homers (13%); 16 grand slams; hit two homers in a game 61 times (3rd, behind Babe Ruth and Willie Mays); hit three homers in a game once (6/21/1959); hit 14 extra-inning homers; one inside-the-park home run (1967); three pinch-hit home runs (1962, 1966, 1973); hit 534 homers off right-handed pitchers (71%); 221 homers off left-handed pitchers (29%); victimized 310 pitchers in 32 ballparks; hit three homers in the World Series and three more in the 1969 National League Championship Series; blasted two All-Star game home runs.
Here are his complete career statistics
~ Check out the career rankings at the bottom of the table! WOW!
Here are his top 15 productive seasons according to the Madfish Willie Index:
~ Hammering Hank was the model of consistancy... check out the rank grouping and the year after year of similar stats.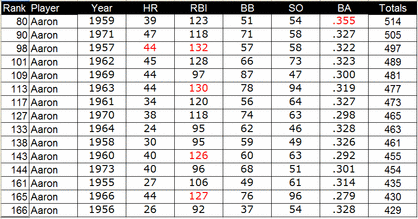 »
by
Madfish Willie
on March 31 ::
Permalink
::
Comments (0)
::
Baseball