Bad Example - Final Design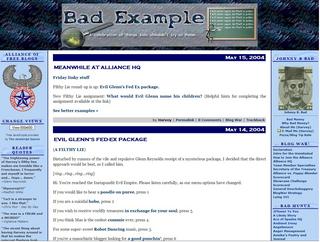 Above is a screen capture of the final design presented and approved by Bad Example.
This is a site I did for my buddy Harvey. It's all his fault I got into this blogging thingy... his, and Matty O'Blackfive.
His old site at Bad Money was a slow loading dog. I used to open a second IE window just for his site and browse around in the other window till his got loaded. His site had been acting funky for several weeks so, after several months of not so gentle poking and prodding, we finally convinced him to move over to MuNuviana and an MT blogging system.
The graphics on this site are just awesome. Pam took the mental image Harvey gave her, improved on them and turned out some really fantastic logos and backgrounds. Page load speed was an essential element of his design and we took that into account in optimizing the size of his banner images. Outstanding work! I'll put all her Bad Example banners in another post so you can see them all.
Site Features:
Custom 3 column design
Custom banner/logos
Custom graphics for post background
Custom graphics for sidetitles
Custom graphic for sidebar
Custom archive pages logos
Custom comment pages logos
Custom trackback page logo
Custom sidebar background images
Custom archive page designs
Custom comment page designs
Custom trackback page design
Custom display trackback pings code
Custom Authored By / Date coding
Installed rotating banner image scripts on all pages.
Expanding & collapsing extended entry scripts
Expanding & collapsing comments viewer scripts
NEW! Expanding & collapsing trackback viewer scripts
by Madfish Willie on May 15, 2004 02:16 PM