S A P S A - Final Design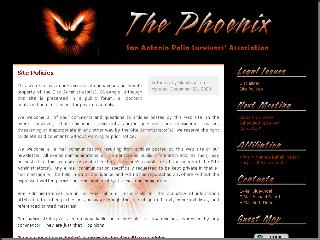 Above is a screen capture of the final design presented and approved by San Antonio Polio Survivors Association.
Here is a full screen sample at 1024x768 resolution.
Here is a 800x600 resolution screen sample.
This is a site I did for my mother. She is an retired RN and a polio survivor. She does a monthly newlewsletter for her local support group, and I thought it would be a good idea for her to put all this stuff on-line.
The graphics on this site are just awesome. Pam took the image my mom liked and turned out some really fantastic logos and backgrounds. Then, she used that same type-style to use as captions for the sidetitles. Phenomenal work!
Site Features:
Custom 2 column design
Custom banner/logos
Custom graphics for post background
Custom graphics for sidetitles
Custom graphic for sidebar
Custom archive pages logos
Custom comment pages logos
Custom trackback page logo
Custom sidebar background images
Custom archive page designs
Custom comment page designs
Custom trackback page design
Custom display trackback pings code
Custom Authored By / Date coding
Expanding & collapsing extended entry scripts
Expanding & collapsing comments viewer scripts
by Madfish Willie on January 19, 2004 09:56 PM