Greatest Hitters Ever
Madfish Willie's Greatest Hitter Ever - #4 Stan Musial

Awards:
• 1943: National League Most Valuable Player
• 1946: National League Most Valuable Player
• 1948: National League Most Valuable Player
• 1999: Named to All-Century Team (OF)

After 22 years as a Cardinal, Stan Musial ranked at or near the top of Baseball's all-time lists in almost every batting category. The dead-armed Class C pitcher became a slugging outfielder who topped the .300 mark 17 times and won seven National League batting titles with his famed corkscrew stance and ringing line drives. A three-time MVP, he played in 24 All-Star Games. He was nicknamed "The Man" by Dodger fans for the havoc he wrought at Ebbets Field, and is still renowned for his skilled harmonica playing.

Did you know... ... that on May 2, 1954, Stan Musial hit a record five home runs in a doubleheader against the Giants, including two round-trippers off future Hall of Fame pitcher Hoyt Wilhelm?
Here are his complete career statistics.
Here are his top 15 productive seasons according to the Madfish Willie Index: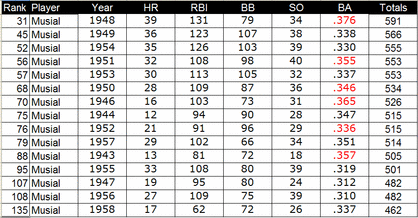 »
by
Madfish Willie
on April 9 ::
Permalink
::
Comments (0)
::
Baseball