Argghhh!!! - Final Design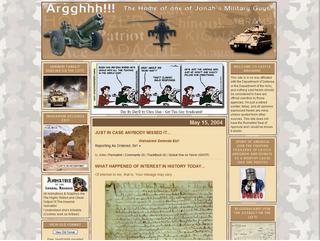 Above is a screen capture of the final design presented and approved by Castle Argghhh!!.
This is a site we did for Pam's buddy Sir John of Argghhh!!!. She is, after all, the Imperial Animatrix. We also did his wife, Beth's, site at She Who Will Be Obeyed!.
Sir John is ex-military and wanted a militaru schem. We decided we wanted to do something with a desert camoflage background and pick some complimentary colors for the rest of the design. Finding a pattern that tiled on the page properly was THE major boggle in completing this design.
The graphics on this site are just awesome. Pam did several different page banners with cannons and machine guns and stuff like. Then she did some small banners for the comments and trackback windows. I just can't say how talented I think she is. She always comes up with awesome stuff. I'll put all her Argghhh!! in another post so you can see them all.
Site Features:
Custom 3 column design
Custom banner/logos
Custom graphics for post background
Custom archive pages logos
Custom comment pages logos
Custom trackback page logo
Custom sidebar background images
Custom archive page designs
Custom comment page designs
Custom trackback page design
Custom display trackback pings code
Custom Authored By / Date coding
Installed rotating banner image scripts on all pages
Installed Chris Muir's Day by Day cartoon script in a featured position
Expanding & collapsing extended entry scripts
Expanding & collapsing comments viewer scripts
by Madfish Willie on May 15, 2004 02:28 PM